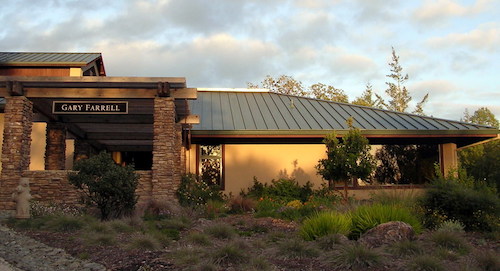 At Sun Solar Electric, we are proud to serve our Bay Area community's residents and businesses. So many here are making unique cultural signatures, helping define the beauty and forward leadership Northern California shows the world.
Based in Sonoma County, we are keenly aware we are in one of the world's premier wine regions, giving home to viniculture that is raising the world's best wine varietals, and winemakers at the cutting edge of oenology.
As "locals" ourselves, key members of our company have ties through both families and professional histories to this important industry of our region.
Recently, we were honored to be asked to install Tesla VIP charging stations for the Gary Farrell Winery.
Named for its legendary Founder and winemaker (now retired), Gary Farrell, the winery still bearing his name and influence continues his quest for perfection at every level of Operations. 
The most significant wines produced are from the 2 great and ancient grapes of France's Burgundy region- Pinot Noir and Chardonnay. Good Chardonnays have been successfully produced throughout California, but Pinot Noir has been the most challenging. It's history in Burgundy has proven it to be arguably the greatest of all the red wine varietals in the world. But it demands just the right soil, microclimate, and sensitive winemaking artistry, to reveal its greatness.
At the Gary Farrell Vineyards and Winery, winemaker Theresa Heredia ably took the reins of pursuit in that quest in 2012.  Judging by awards and reviews, she is succeeding quite handsomely!
Visits to this elegant winery are by appointment only. For more information, click onto the link:
https://www.garyfarrellwinery.com/visit/winery-experiences
Our last visit was, of course, to install 3 VIP Tesla Charging stations, and to do so with an aesthetic sense, as well as perfect functionality-i.e., the guiding principles of the Winery.
We checked in with GFW's Business Development Manager, Brian Shapiro, for feedback on our completed contribution, and Brian had this to say: "We are incredibly pleased with the swiftness and professional manner of the Sun Solar Electric Team. Installation was a breeze and the continued support from both SSE and Tesla has made this a great upgrade to offer our VIP visitors."
We at SSE are glad to know we were able to serve and satisfy the exacting standards of a winery committed to perfection- a true "Grand Cru" producer in Sonoma County.
We are always delighted to be a part of helping wineries improve their energy efficiency for Operations with electrical improvements; Solar to harvest the sun's benefits for both environmental impact and the bottom line; and, to add an increasingly important service for owners and guests: EV charging stations.