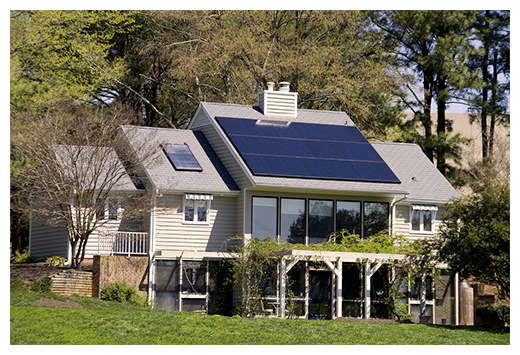 Having solar energy panels installed at your home is no longer unusual or exotic, as it was in days gone by; today, residential solar power is more common than ever before and keeps growing in popularity year after year.

There are many be benefits to producing solar energy on your own premises, including saving on your electric bill, increasing the resale value of your home, and helping protect the environment by using sustainable, renewable energy sources.

Today's solar cells and panels are far more efficient and reliable than those of even just a few years ago. And they are also very low-maintenance and look attractive on your roof or on a detached solar panel stand. Many of the limitations of earlier models of solar energy equipment have been overcome by today's technology, and the ROI for investing in solar energy on your home can be truly impressive.

At Sun Solar Electric, we can introduce you to the most up to date and efficient of today's solar energy equipment. We can explain to you how each component of a residential solar energy system works and help you make an informed decision on which system will work best for you.

We can also have your solar panels securely installed at an affordable price point and ensure you are equipped with the right kind and number of panels to meet your needs.

We at Sun Solar Electric understand the needs and motivations of homeowners who decide to "go solar" and we offer flexible, affordable payment plans that help your desire to invest in solar energy become a reality.

Contact us today by calling 707-658-2157 in Sonoma, CA, and the surrounding counties of the SF Bay Area, and we will be happy to give you a free consultation and do everything possible to outfit your home with an up to date solar energy system that will continue to save you money for years to come.


Owning Versus Renting Your Solar Energy Equipment

If you can afford to buy your solar energy equipment in full upfront, that's ideal in that it eliminates any need for financing. But most people either have to have some kind of other arrangement (or choose one anyway). 

A lot of solar energy companies offer only third party ownership plans, which essentially means you are renting the solar panels. This prevents them from adding to your property value and means the third party owner will be eligible for energy savings and tax credits. Often, this is set up as a pre-paid agreement (PPA) that gives you a buy out offer for the solar equipment after 20 years. You will still save money throughout this period by paying less for energy, and there are some situations where it might be preferable. But, normally, it's far better for you if you can own your own solar equipment sooner. That's the kind of plan we at Sun Solar Electric provide for our customers - a "direct ownership" plan (unless they prefer a third-party ownership plan).

Direct ownership makes your solar panels and accessories part of your property, thus raising its value. It gives you direct, rather than indirect, benefits from energy savings, tax breaks, and equipment warranties. And all of the special tax credits and warranties associated with your solar equipment will transfer to a new property owner should you decide to sell your home at a future date. (That often proves a factor that both motivates buyers and gets you a higher selling price!)

When you own your own solar equipment, you are generally entitled for a 30% federal Investment Tax Credit (ITC) against the value solar energy investments have added to your property. This tax credit can be claimed on your individual income tax return. You also own the agreement with your power provider to sell back excess solar energy you produce and feed into the power grid. This is called "Net Energy Metering Agreement" (NEMA).

NEMA lets you sell back solar energy you produce but don't immediately use to your electric company at the full retail price. This can greatly reduce your monthly power bill. Sometimes, it may become extremely small or you may even make a net profit, depending on how much energy you produce and how much you use from day to day.


Evaluation and Installation

At Sun Solar Electric, we have the entire process of evaluating your property and installing your new solar energy panels and other equipment down to a step by step science. We will first of all, of course, listen to your vision and offer our experienced advice to help you make an informed decision on what kind of "solar system" and how big of a solar energy system you want to have installed.

But, once you have determined the basic plan and goals, we next go to work on three very important preliminary evaluations (inspections).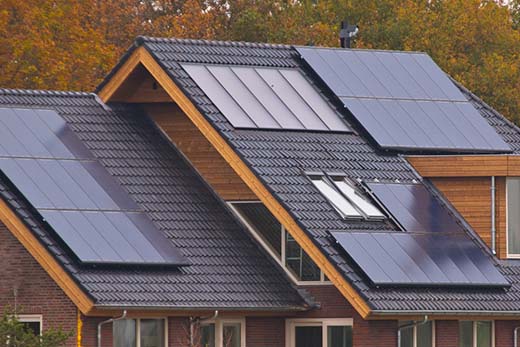 First, we will examine the strength and suitability of your roof, if you do (or may) wish to locate your solar panels there. We need to makes sure the roof is strong enough, and if not, add the proper supports to strengthen it. We will also determine the "sunniest" areas on your rooftop so you can avoid shade on the solar cells and get the maximum value out of your investment. If necessary, we may recommend trimming back tree branches that would cast shade on your panels.

But we can also examine which areas of your property would be best suited for a mounted solar panel assembly. This requires detailed knowledge of what constitutes a viable solar energy collecting efficiency and how much sun exposure is required to achieve that level. We put our knowledge to work for you and get you accurate estimates that form the basis for informed decisions on your part.

Next, we will evaluate your electric usage history in terms of kWh. Only by determining your real usage habits and energy needs can we calculate how many solar panels and of what size and power level will be needed. We can also use this information to calculate your "break even" point, meaning how many years it will take to pay for the solar system you've invested in: on average, this takes place five to eight years from the installation date. But since solar energy panels last and function well for 25 years or more, you will ultimately save far more money than you spend.

Third, we help you evaluate the different types of equipment available to you. There are many options on the market today, not just a few like in the early days of solar power. We help you understand how the design and build of the equipment will interact with the size of the panels, the placement of the panels, and the number of hours of sun that is likely to hit the panels.

We are intimately familiar with the capabilities of the equipment options and the reliability of specific solar energy product manufacturers. Our ideal goal is to 100% offset your energy bill and bring it down to zero. But the cost-effectiveness of the entire enterprise and the upfront cost will vary greatly based on a multitude of factors. Thus, aiming for a lower offset percentage may make more sense in some situations. We will always customize your solar panel system to your exact situation and specifications.

Finally, we will help you understand your NEM Agreement with your electric provider so you know what to expect on your power bill. We will ensure that your power grid can safely accommodate any excess solar power fed back into it. It would be fed in through a dedicated breaker installed in your Main Service Electric Panel. It's possible you may need an electric panel upgrade before the back feed system can be set up. If so, we can see that that upgrade is completed.

All the energy you put into the grid will be measured and then the value of it subtracted from your power bill. You will save money month on month while helping the environment simultaneously. That's what it's all about.


Our Commitment to You Our Customer

At Sun Solar Electric, we are committed to providing each and every one of our solar customers with the highest level of service and with equipment and installation services that let your solar system function continually at optimal levels. We have deep experience in planning and executing residential solar system installations, and our high customer satisfaction rates, overwhelmingly positive online reviews, and large number of referrals bear that out. We are confident in the quality of our services and demonstrate that confidence via a 10 year Sun Solar Electric Workmanship Warranty on top of the (often) 25 year manufacturer's warranty on the solar equipment. 

Sun Solar Electric is a family owned and operated local California business. We are based in Sonoma in the San Francisco Bay Area and serve all communities in the area. We are not a fly by night operation looking to make a quick profit and then bail. We have long-range goals to be the best in the business and serve the Bay Area with top quality solar energy services for decades to come.

We are committed to contributing to local communities in the SF Bay Area by improving the energy efficiency of their homes, increasing their use of renewable and "free" solar energy, and decreasing their reliance on unsustainable and often expensive fossil fuel based energy. Year after year, our total impact on the Bay Area's collective carbon footprint and "collective energy bill" grows and grows.

We are also committed to providing our customers with maximum visibility and flexibility as to their solar energy systems. We are offering a new monitoring system that will allow residential solar energy users to monitor their system's performance in a more detailed way. And we at Sun Solar Electric and the equipment manufacturers will also act as extra "sets of eyes" in monitoring performance. This means you can call us if you suspect a problem, and more likely, we will call you first if we notice any "irregularities." This will allow any (rarely needed) maintenance needs to be quickly detected and dealt with. And if you ever do need a repair, a system performance evaluation months or years after installation, or an upgrade of your equipment, we are always here to help. If you decide you want to later go off-grid, we can assist you with that too.

The bottom line is that Sun Solar Electric can walk you through every step of the process of selecting, implementing, and maintaining a home-based solar energy system. We can help you keep your solar system functioning at optimal levels for years and decades and ensure you save big while shrinking your carbon footprint exponentially.


Contact Us Today to Learn About Our Top-tier Solar Power Solutions

At Sun Solar Electric, we can cover every aspect of setting up your residential property with money-saving solar energy panels. We can customize your "solar system" to the needs of your family and the physical realities of your property. 

We can also set you up with an affordable plan that will let you own your own solar equipment, not just rent it; and connect you to technology that will allow you to monitor and manage your solar energy production and usage for maximum cost savings.

Contact us today by calling 707-658-2157, and we can discuss with you your solar energy vision for your home and get you started on making your solar panel plans become a reality.