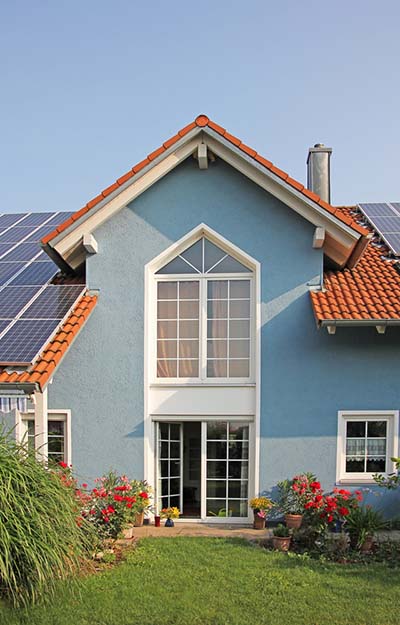 It's 2017, and by now you've seen solar panels visible on more and more homes as you've walked or driven through different neighborhoods-including your own. Maybe driving on the highways you've noted more trucks and cars with solar company signage. Maybe you've noticed that the radio and television advertising slots are increasingly full of messages from a growing variety of Solar companies. Perhaps you've just made one more painful payment to the utility company that pays for the past month. That bill was higher than the last one, which was higher than the previous one-and it doesn't seem like you and your family have increased your electrical usage. And you are wondering how high those bills will continue to rise. Maybe your children have come home to tell you they learned in school how renewable energy use can help make the world healthier. Or, maybe you've realized that fact yourself from your own research.

Yes, the fact is, Solar is one of the fastest growing business sectors in the country. It is becoming recognized as one of the best investments in home improvement that a home owner can make. You will continue to see more solar panels on more homes. And yes, Utility companies will continue to have rising costs, and paying those costs as a homeowner will do no more for your money than paying rent did before you invested in a home. And yes, your children, and/or your research, are correct: using the sun, as an infinite source of clean electrical generation, is a much healthier choice for our (their) world.

If you are reading this, you have by now decided to do your research. If you have heard or seen a myriad of solar commercials, you've gotten the message that Solar will save you money. In very few of those commercials, though, will you hear from its advertiser what business model they are using as their own, that they want you to buy in to.

There are 2 primary business models in the Solar Industry. One is referred to as "third party" ownership, and the other is "direct" ownership.

The Third Party model assumes ownership of the system on your home, and provides a Lease, or, more frequently now, a "PPA"-i.e., a Pre-Paid Agreement. The Third Party owns the Solar System, its warranties, and the Net Energy Metering Agreement. They also are the entity eligible to utilize the FED 30% Investment Tax Credit. No additional value is added to your property. A monthly bill, less than the utility company charges, that generally has annual "escalators", is sent for an average term of 20 years, upon which a "buy-out" is offered for the existing system, or a surrender of same. Somewhat like a car lease. The PPA offers a few variations-but key benefits of ownership remain with the Third Party.

The "Direct" Ownership model means just that- The homeowner purchases, cash, finance, or via a PACE Program. The Solar System then becomes a part of the property, and the home owner takes possession of all mechanical parts of the system; its warranties; tax benefits, including:
the 30% FED Investment Tax Credit, tax-liability-free added property value, and eligible tax deductions if financed through a property-attached vehicle; ownership of the Net Energy Metering
Agreement (which, in effect, is the license to sell excess energy production back to the Grid for credit.)


The Solar System has been proven by Berkeley Labs studies to add increased market value, both in price, and in speed of sale, in all 50 states-if it is owned and part of the home. Warranties and the NEMA are then transferable, with simplicity.

At SSE Inc, we are a "Direct Ownership" model Solar company. Although in some cases, such as lack of tax appetite, Third Party ownership may be a fit, our knowledge shows us that the Owner acquires the most profitable gain. We like to see the home Owner receive all the benefits.

In the process of working with you, we begin with 3 important evaluations: your roof, or your preferred ground mount area, and the exposures and/or potential blocks to sunlight; your existing Main Service Electric Panel, to know its capacities; and, very importantly, a close study of your previous 12 months of usage and cost.

The usage history of kwh, guides the determination of the system size needed to offset your energy needs. The cost history allows for a calculated projection of future total costs of payments to the utility without solar, and determine the break even point of your out of pocket cost to instead acquire a Solar System. On average, that point occurs in 5-8 years. The great aha! Moment in seeing the financial value is with the realization that a good solar system will have a 25 year performance warranty, meaning savings of thousands of dollars when you no longer "rent" your electricity. That is also why your home, equipped with its own electric power generator, adds to its market value with a well designed solar system.

Design aspects include, not simply the obvious layout of equipment placement, but also the types of equipment, and how they marry together. We like to show equipment choices in three price tiers of first tier quality. We like to begin looking at the ideal sizing of 100%+ power generating offset of your annual history. When space or immediate budget preclude the ideal, we then study the effects of sizes smaller, and their potential overall effect(s) on projected remaining dollars to pay out to the Utility company.

We work with you and your needs, customizing sizing, equipment to fit your budget, and your ideal purchase method.

We also want you to have a good understanding of the Net Energy Metering Agreement, and how to best make the most optimal use of its parameters.  

What is the NEMA?
Net metering, or net energy metering (NEM), is a billing system that credits customers at the full retail electric price for any excess electricity they generate and sell to their local Utility company via the grid from on-site "small" sources such as residential rooftop solar array installations. The NEM Agreement becomes your active "License" to sell back for credit to your Utility on the day you are given PTO-Permission To Operate by the Utility Company.

One of the important reasons why your Main Service Electric Panel is an important part of initial study, is to be sure it can accommodate the back feed from excess production. During sunlight hours, an optimally sized system for your home should generate more than your daily home use can utilize. The excess is fed to the grid via a dedicated breaker installed in your panel for this purpose. Your home's contribution to the grid is measured and credited for its value, and ultimately weighed against your energy pull from the grid during non-productive solar generation time. This is why sizing for usage offset is an important part of your positive results strategy, along with understanding how best to time your usages with your billing rate plan, in conjunction with the terms of your NEMA.

The third important item for initial analysis is a study of the space you have available for the installation of the PV panels. This is most often your roof, and in some cases, land for a ground mount. These days, a fairly good idea of feasible solar collecting efficiency and sufficient space needed can be gained with the aid of Google Earth views, but we have learned repeatedly it is best to confirm with a person on site taking readings and measurements.

In review, upon completion of the initial 3 part analysis-12 month retrospective of usage and cost, state of existing Electric Panel, and the light harvesting space available, the feasibility of an effective solar installation for your property will be clarified. It may be necessary to have your Electric panel upgraded. It may be necessary to have shade inducing vegetation trimmed or removed. A ground mount will likely require trenching. Roofing may need to be repaired to pass Inspection as a stable support. The good news is that these necessities for solar installation are part of the cost that is eligible for the FED ITC.

Our next review with you will be determining which equipment you want. We will provide choices of first tier quality with 25 year warranties, from different manufacturers, with different designs and price points.

If you desire to use financing, we will then walk you through some of the many options we are aware of, and help you find the formula that best meets your needs and goals.

Despite the appearance of simple stationary solar panels, there are many "moving parts" that make a Solar System a successful Investment. This is why we work with you lending our best knowledge to help you create your system for your greatest benefit.

We know that your success is our success, for SSE's business model and ethic. Our business has grown steadily through five-plus years, largely through referrals.

We will hope to gain yours. 


Once your system is installed, PTO granted, etc. - What's next?
In addition to your product warranties, SSE Inc. will be standing by our work with a rock solid 10 Year SSE Workmanship Warranty. Just as we have the desire to treat our customers with the care of "like family", we will be continuously available for questions and concerns and service you may have, long after. We are not going to create any "Solar Orphans", although we have "adopted" many, who discovered their original company that installed their home systems had disappeared.

SSE's Founders and owners are firmly established in a thriving business, and are happy home owners in the Bay Area we serve. Our Business goals are for long steady growth over the next 30 years, with no plans to ever sell out to another company. In the background are several children who will likely step in when the Founders retire. SSE will be available for the long life of your system.

In the immediate future, another piece of the solar system we will have installed for you, is a Monitoring System. This will allow 3 important sets of eyes on your system's ongoing performance. Yours. Ours. And, the Inverter manufacturer.

The monitoring data is available 24/7 on your computer and/or smartphone. It allows both immediate "live" status reports, as well as retrospective views at your system's evolving history. If you note any irregularities, you can call us. More often, we would call you if we note something before you did. In many cases, repairs can be made remotely with adjustments from the Inverter company, who can also see your system.

All the above mentioned factors are important points to consider as valued assurances for your important investment to achieve its maximum ROI. You may also want to expand your system in the future, or move to Battery Storage, or, if feasible, go off-grid. The Solar System we install for you will have a lengthy life-span. We are glad to inform you we will be here to serve you in those many days ahead.

To get started learning more, contact us for a free estimate.

We at SSE will be delighted to serve you!