At Sun Solar Electric, we are on the cutting edge of all things related to energy efficiency, including the installation of electric vehicle service equipment (EVSE) car chargers in homes or businesses.
In today's changing world, the electric automobile has a growing economic presence and may well be a foretaste of the future. But the reality still is that electric car-charging stations are few and far between, even in California. That means that people who own an electric car need to install an EV car charging station at their own home in order to have maximum convenience and freedom in making use of their electric-powered vehicle.

Sun Solar Electric has been in the EVSE installation business for years, and we know how to walk you through your options, help you weigh the benefits of different chargers, and assist you in making an informed decision you'll never regret. 

To learn more or for a free consultation and a no-obligation quote, call us today at 707-658-2157.
What Are EVSE Systems?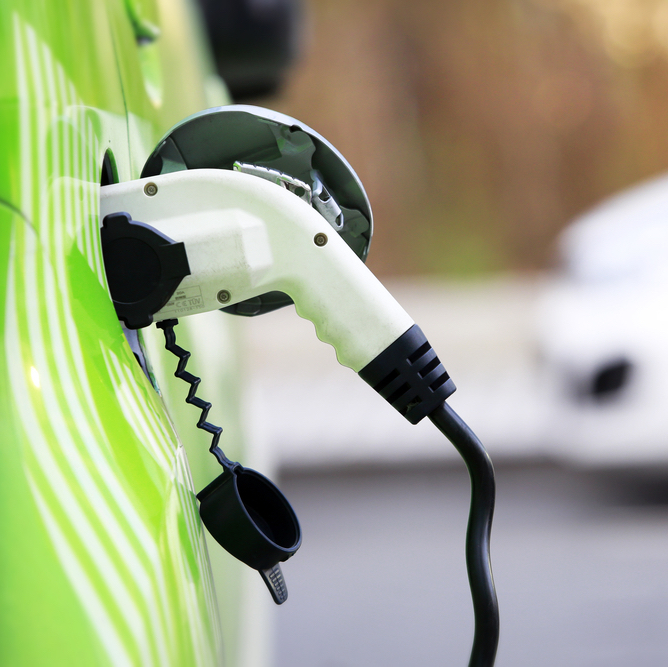 Electric vehicle service equipment (EVSE) systems are essentially the equivalent of "home based refueling stations" for electric cars. The technology has been around for decades, and there is a growing competitive market at this point for EVSE manufacturing and installation. The electric car charger market is maturing and expanding, which means lower prices and better components for the consumer - that's you.

We at Sun Solar Electric have been on top of these developments for many years, and we have EVSE installation and consultation services down to a science. 

Your electric car will save you money on fuel by running extremely efficiently. And the fact that you avoid heavy consumption of fossil fuels means you are reducing your carbon footprint and helping our planet. But without an EVSE, none of this will be practical, or you will have to make many extra trips to the nearest public car-charging station, which may be many miles out of the way.

Also realize that your car charger is 100% safe to use, when properly installed. You can simply plug it in and unplug it as needed. You can even use your smartphone or other mobile device to get alerted when your car has finished charging up. These at-home refueling stations for electric cars are both safe and highly convenient.
Can't I Just Install My EVSE DIY?
Although some people with a good deal of electrical experience and knowledge of how EVSE systems and electric cars work install their own EV car chargers at home, most people choose to have their EVSE installed for them by trained professionals.

Now, it's true that some car chargers are easier to install than others, and people with decades of experience in electrical work may find the installation process fairly straightforward in some cases. But most drivers of electric cars are not electricians, and when you are dealing with electricity, the dangers of electric shock, electrocution, fire, and other dangers are very real. 

Therefore, it is highly advisable that nearly all owners of electric vehicles get professional help in selecting and installing the optimal EVSE to meet their needs. The equipment can be very complex in some cases, depending on the make and model of the electric car and the type of charger you choose. And you will also get helpful advice on how to use your charger properly and safely for maximum performance going forward.

At Sun Solar Electric, we are fully licensed, bonded, and insured, and can install any type of EVSE system you want. We work efficiently, on your schedule, and take the time to patiently explain to you all the ins and outs on how to manage and maintain your new car charging station.
What Is Involved in Installing the EV Charger At Your Home?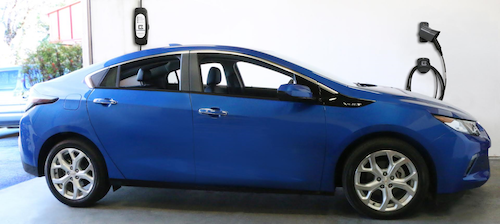 Sun Solar Electric can handle every step and every aspect of the EV car charger installation process. You just call us and make your order, and we take care of the rest.

The first step, after the selection of the EVSE model and the location where you want it installed, is an inspection of all the equipment that will be involved.

We will ensure everything is in good working order and that no unforeseen problems will go undetected or uncorrected. We will then proceed to install the EVSE in strict accord with all manufacturer recommendations. (That gets you maximum performance and safety and keeps your product warranty 100% in force.)

We also have to inspect your electrical system and make sure it can handle the EVSE. You'll likely want a Level II charger versus just a Level I, which may require some upgrades. For example, we may need to install a dedicated circuit. And the new circuit will likely need to run on 40 amps, be a 240 volt system, and use 8-gauge wires for added safety.

We make sure all electrical upgrades meet local building code standards and also conform to National Electrical Code requirements.

Once everything is installed, and if necessary upgraded, we then run a test and evaluate the equipment's performance. Typically, everything runs smooth immediately, but if necessary, we can tweak the system till it runs absolutely perfect.

Finally, we will provide you with all relevant information on the proper use of your EVSE, its specific features, any maintenance it may eventually require, and on the terms of the warranty.
Which EVSE Car Charger Should I Buy?
For many owners of electric cars, the decision on which vehicle to purchase was easier to make than on which EVSE charger to invest in. That only makes sense since a car involves so many aesthetic and "creature comfort" features, whereas deciding on a car charger is an almost strictly technical choice.

But don't underestimate the importance of making the right decision, and don't think there's only one option per make and model of electric car. Typically, there are multiple options and the choice can make a big difference in your experience as an electric car owner.

We can't get into all the specific options here, for that would be to dive into a sea of electrical jargon and focus extensively on case-specific minutia. Our EVSE consultants will discuss these maters with you at the proper time in as much detail as you desire

But the key point to make here is that it is strongly advisable to buy a Level II instead of just a Level I car charger. Even though Level II costs more, it's well worth it. The Level I chargers are called "occasional chargers" for a reason: they work more slowly and are fine "in a pinch," but they are less convenient for frequent at-home full charge ups.

The Level I charger runs on ordinary 110 Volt current from your home; whereas, the Level II charger uses a 240 Volt charge, which means you can charge your car up twice as fast. It will take a little extra electrical work during installation, but you'll be thankful for those extra Volts every time you plug in your car.

It's true there is a third choice: DC Chargers (also called "Level III chargers"), which are used more and more at public charging stations. But you need to run them on 480 Volts and spend a lot more, which makes Level II (EVSE) car chargers far more practical for the homeowner.

And again, Level II chargers will require a dedicated circuit with 40 amp and 240 Volt capacity. That means that different houses will have different upgrade needs (if any) to successfully take an EVSE hook up. We at Sun Solar Electric understand how to assess your home's capacity and how to safely get your electric system "up to par" in as little time as possible.
Can I Use Solar Energy to Charge My Electric Car?
For those who want to switch over to renewable sources of energy and do everything in their power to help protect the environment, powering an EVSE car charging station by means of solar panels is a virtual dream come true. But can it work?

The answer is, yes, but not the way most people would assume. For now at least, you can't directly feed DC power output from your solar system into your EVSE to power up your electric car's battery. The vehicles simply aren't designed to handle that.

Your car charger powers your car via AC current, not DC; and there may be voltage differences to convert over first too.

If you have enough solar energy production (probably a dozen or more panels), you could produce enough energy to charge your car. But you have to use an AC-DC inverter to convert low-volt-DC power from the solar panels to the high-volt-AC power that your EVSE needs to charge your car.

Additionally, you would need to have batteries installed that could store up the solar energy produced during daylight hour for use during dark or cloudy hours. Those solar energy storage batteries would then need to be connected to the AC-DC inverter.

We at Sun Solar Electric have deep experience in installing complete solar energy systems at our customers' homes. We know how to upgrade your electric grid so you can feed solar power production into your system and sell it back to the power company to reduce or eliminate your power bill.

We can also direct some or all of the energy produced by your solar panels to powering your EVSE, after installing it as well. It's a matter of how you want to set the system up and of how much solar power output you are generating. Feel free to ask us about solar powered electric car charging, and we will discuss with you the pros and cons of hooking up your solar panels to your EVSE directly or simply powering your EVSE from a solar-powered house.
Why Choose Sun Solar Electric?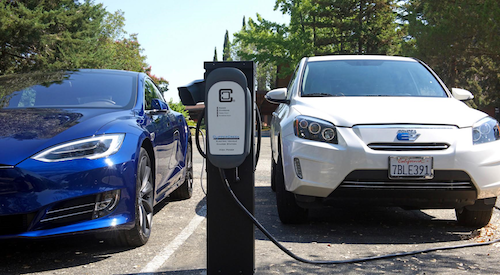 At Sun Solar Electric, we work hard to be the best in the industry at every service we provide. We have built a solid reputation in Sonoma, the SF Bay Area, and beyond as a top-tier solar energy and energy efficiency company. We have also made waves by dominating the local market for EVSE car charger installations and related electrical upgrades.

But the benefits of relying on Sun Solar Electric for your EVSE installation and related services go beyond just the quality products and workmanship we always bring to the table. We also set ourselves apart from the competition with our strong work ethic, customer-focused attitude, friendly and helpful customer service, and our very competitive pricing.

Finally, we don't hit you with any hidden fees, but give you accurate estimates upfront. And we are honest with our customers about the benefits and limitations of each piece of equipment we install. We don't try to push you into making a particular decision or buying a particular type of EVSE charger, but we give you the pros and cons of each model and explain to you the costs and benefits of each type of charger and its accompanying electrical system upgrade requirements.

Contact Us Today to Get Started On Installing Your Home EVSE Car Charger!

At Sun Solar Electric, we have the knowledge base, tools, experienced staff, and dedication to each customer's best interests to guide you in the selection of an optimal EVSE car charger for your electric vehicle.

We also have the expertise to come and install your car charge station in your garage or elsewhere on your property as desired.

Contact us today by calling 707-658-2157 for quick, courteous, and effective car charger installation services in Sonoma, CA, and in the surrounding counties of the SF Bay Area.